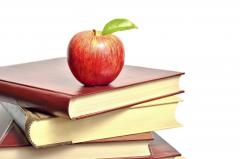 August 22, 2014 10:03 AM   ::  Even in the age of Amazon (NASDAQ: AMZN), there's still reason to be bullish about Pearson Publishing (NYSE: PSO), a British book publisher. Indeed, Pearson Publishing stacks up well against the likes of Apple (NASDAQ: AAPL) and Microsoft (NASDAQ: MSFT).
1.) Educated Profit Margin
Pearson has a strong position in educational materials, which fuels a profit margin of 16.50 percent. Amazon's is only 0.20 percent. Yes, Amazon is plowing money into a massive expansion program, but the profit margin of Pearson challenges that of Apple (21.60 percent) and Microsoft (25.60 percent), too.
2.) Yield
So does its dividend yield!
The dividend yield for Pearson is 5.68 percent. Amazon does not have a dividend yield for much the same reason its profit margin is lacking: There is a call on cash elsewhere. Pearson's is much higher than the 1.67 percent rate for Apple and Microsoft's 2.49 percent mark.
3.) A Falling Pound Would Bring Rising Profits
Pearson also has upside in that the strong pound is hurting sales abroad.
When the pound is stronger, British exports are more expensive. If the pound falls, Pearson becomes more competitive. For savvy investors, that is a factor that can result in higher profits as currency prices fluctuate. Should the pound fall, Amazon, Apple and Microsoft will not profit, but Pearson will.
It has not been a good year for Pearson, but investors should take a long-term outlook.
Earnings over the next five years are projected to be nearly 10 percent better than those for the previous half decade. With the dividend and currency considerations, that should reward long-term investors.
Disclosure: Jonathan Yates does not have a position in any of the stocks mentioned in this article.