Chief Beck: "We're a city that recognizes that our children are our most precious, precious resource. We can't let a tragedy 3,000 miles from here affect the education of our children."
LA Police Step Up "Gun Buyback" in Wake of School Shooting
Gun owners can turn in their weapons anonymously for up to $200 in gift cards the day after Christmas
By Jason Kandel, | NBC Southern California http://bit.ly/UZHVvG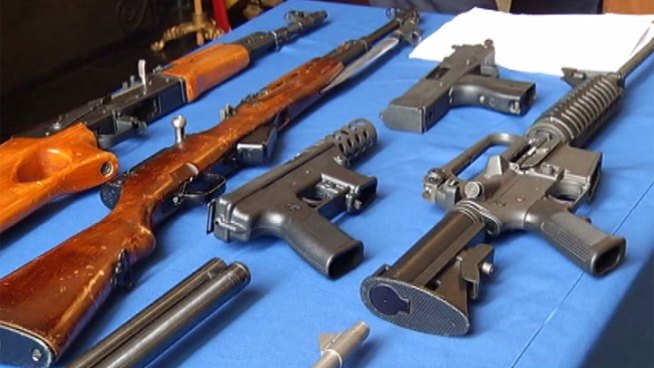 LAPD officials laid out guns for the media to see after a gun buyback on May 11, 2012.
Monday, Dec 17, 2012  |  Updated 2:26 PM PST  ::  The massacre at an elementary school in Connecticut has renewed calls to close loopholes in California assault weapon laws and prompted efforts by law enforcement to restart gun buyback programs.
The Los Angeles Police Department is planning a gun buyback program the day after Christmas, said LAPD Cmdr. Andrew Smith, a department spokesman. The effort was originally scheduled for Mother's Day, but the LAPD bumped the event up at the request of Mayor Antonio Villaraigosa's Office due to the mass shooting at Sandy Hook Elementary School where a 24-year-old man fatally shot 20 children and 6 adult staff members before committing suicide.
"In light of what happened we want to … do everything we can to get any guns off the streets," Smith said.
At a press conference Monday, Villaraigosa said LA mourns with Newtown and used the shooting as a call to action to make schools safer.
"No community should experience the trauma of losing so many young, innocent children in the way that this town and this nation have had to suffer," Villaraigosa said. "Right now is the time for all of us to act."
Beck announced a plan to assign LAPD officers to patrol daily the 740 kindergarten, elementary and middle schools in the LA Unified School District.
"We're a city that recognizes that our children are our most precious, precious resource," Beck said. "We can't let a tragedy … 3,000 miles from here affect the education of our children."
LAUSD Superintendent John Deasy said he has fielded numerous calls and emails from concerned parents about school safety and reaffirmed the district's commitment safety first.
He said that the district has never cutback on security even though the LAUSD has experienced devastating budget cuts.
He said district officials are reviewing policies and procedures and has sent a small contingent to Newtown to assist school officials there and with the hope of taking any lessons learned.
He said when classes resume after winter break on Jan. 7, counselors will be on hand at schools to help people cope with the tragedy.
LAUSD Schools Police Chief Steven Zipperman said he had a conference call with 15 police chiefs and the and officials at the Los Angeles County Sheriff's Department who also offered to provide enhanced security at LAUSD schools that fall outside of Los Angeles.
"There's no question, they've already stepped up," he said. "Student safety is a top priority."
The gun buyback program, which are typically held on Mother's Day, police offer gift cards of $100 for pistols and up to $200 for assault weapons to individuals who can anonymously surrender their weapons -- no questions asked, police said. The guns are then destroyed.
The news comes as some local shops are seeing a run on gun sales.
Recent mass shootings in Connecticut, at an Oregon mall and the Mayan calendar predicting the end of the world on Dec. 21 have all combined to instill fear in people who are arming up, said a Glendale gun shop employee.
The news comes as Senator Leland Yee, D-San Francisco, announced on Monday he is drafting legislation that will strengthen California's gun laws and close loopholes that exist in the state's assault weapon ban.
"We must reinstate the federal assault weapon ban and close the bullet button loophole that has severely weakened California's assault weapon ban," he said in a statement. "In addition, I am examining several other changes, including increased background checks, mental health evaluations, limits on ammunition, and additional safe storage requirements."
It also comes as Sen. Dianne Feinstein, D-Calif., said she would introduce federal legislation to ban assault weapons.
NBC4's staffer Lolita Lopez contributed to this report.
L.A. moves up gun buyback after Connecticut shooting
by Kate Mather, LA Times/LA Now |  http://lat.ms/UZFysN
December 17, 2012 |  2:11 pm  ::  Los Angeles Mayor Antonio Villaraigosa announced Monday that the city's gun buyback day would be moved to Dec. 26 to give Angelenos "concrete action" after Friday's deadly shooting at a Connecticut elementary school.
At a news conference Monday afternoon, the mayor said the buyback program — which offers residents a chance to turn in weapons for grocery gift cards with "no questions asked" — would be held next week instead of May as originally scheduled.
"Too often we wake up with another headline that reminds us we are too late," the mayor said at a news conference Monday afternoon.
"In Los Angeles, we believe we should stand together" to prevent similar incidents, he added.
Villaraigosa was joined by LAPD Chief Charlie Beck, L.A. Unified School District Supt. John Deasy and Los Angeles School Police Chief Steve Zipperman to discuss increased security measures at local schools following Friday's massacre at the Newport, Conn., elementary school, where a gunman killed 20 children and six adults.
Both Beck and the Los Angeles County Sheriff's Department announced they will increase daily patrols at area schools. Beck said police would make daily visits to LAUSD's elementary and middle schools, and would extend the offer to charter and private schools as well.
"A barrier has been broken in our culture," Beck said. "It's our job ... all of our jobs, to make sure that we resurrect that barrier and make our children safe."
Deasy said district officials and police are reviewing policies already in place to see if there were "any lessons learned" from the Newtown incident. A contingent of district officials has traveled to Connecticut, he said, to gather more information for those reviews.
Zipperman said increased security efforts would not be limited to schools within LAPD jurisdiction. Other municipalities have already pledged support, he said, and all LAUSD schools would see changes once classes resume.
"We will do whatever possible to ensure that this is the safest school district in the United States," he said.
Sheriff's Department also to increase security at L.A. schools
December 17, 2012 |  1:21 pm  ::  The Los Angeles County Sheriff's Department on Monday said it will step up security efforts at schools within its jurisdiction, mirroring an announcement made by Los Angeles Police Chief Charlie Beck in the wake of the Connecticut school shooting.
"All our stations are going to be more visible in and around schools in our area," said sheriff's spokesman Steve Whitmore. "We are going to be talking with school administrators and we are going to discuss school response and law enforcement response to such events."
Whitmore said that the department heightened its presence after a deadly shooting Friday at a Newtown, Conn., elementary school, where a gunman opened fire and killed 20 students and six adults.
But going forward, Whitmore said, each time a deputy patrols on or around campus, those contacts will automatically be logged into a department database or manually into books. Deputies will also go onto each campus each day, he said, and will discuss with school administrators potential threats and steps they can take to mitigate them.
"Our goal, obviously, is to make our schools as safe as humanly possible," Whitmore said.
On Sunday, Beck said LAPD's increased security efforts would begin when students return to classes in January from winter break. That announcement came the same day Los Angeles police and FBI agents  arrested a Pomona man  who allegedly threatened shootings at multiple elementary schools.
The threats were made on Facebook, and, though they did not mention any schools specifically, referenced the Newtown shooting, the LAPD said. The suspect, Kyle Bangayan, 24, of Pomona, was booked on suspicion of making criminal threats and held on $500,000 bail.
Authorities found nine weapons — rifles, a shotgun and multiple handguns — along with ammunition at the East Hollywood home of the suspects' parents, which is where Bangayan was arrested, the LAPD said. It was not immediately known to whom the guns belonged.
—